Tired of giving and grading by hand those weekly spelling tests? Then go digital with Google Forms Quizzes! Set up a Google Forms spelling test in just 10 quick steps which take about 5 minutes. Google has added a great new feature to Google Forms called Quizzes. Not only can you make your own template for a Google Forms spelling test, but you can make quizzes on any subject.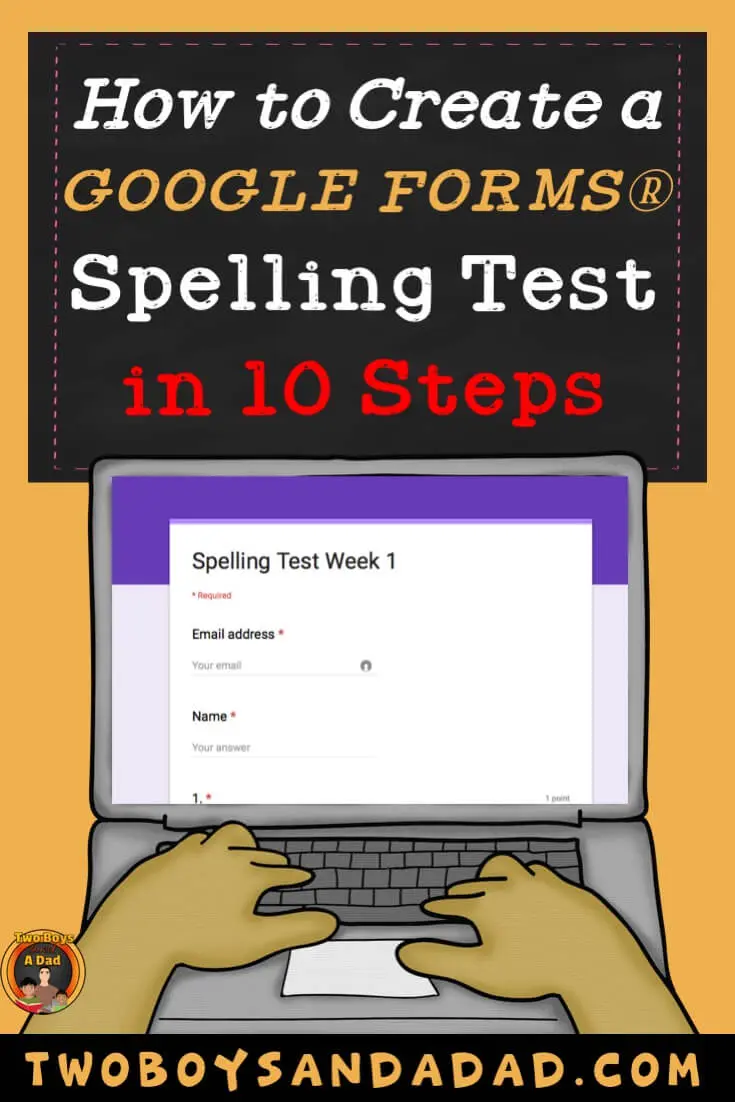 In this blog post, I will show you how to set up your first Google Forms Spelling test. Make a copy of it so it becomes a template for the next and future spelling tests.
2021 Update
Please read the comment section for important updates about using Google Forms for a spelling test.
If you're looking for the original blog post in which I detailed how to use Flubaroo and Google Forms, click on the link HERE. It's an older blog post showing how to do the same BEFORE Google added the Quizzes feature to Google Forms.
STEP 1: Create a New Google Docs Form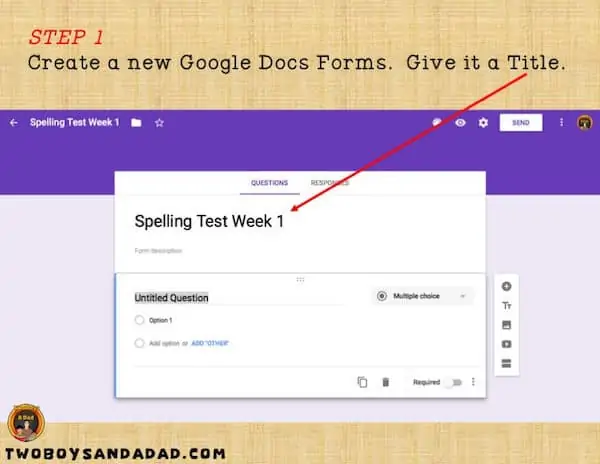 I'd suggest giving it the same title each week, but just changing one part such as the week. Or maybe you can add the type of spelling list (long vowel E or diagraphs, etc.). You want your Google Forms spelling test template to be consistent week after week.
STEP 2: Select Quizzes
STEP 3: Turn on Email Collection
Select 'Make This a Quiz' so it will auto-grade your Google Forms spelling test. If everything else is ok, then select SAVE. See the next step if you want to collect student email addresses.
STEP 3 Continued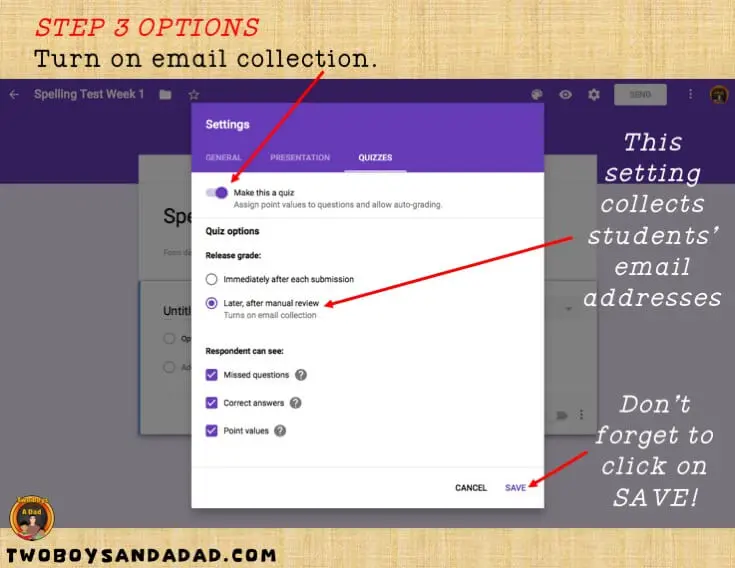 Though you're going to add a field in which the students write their name, it's always best to collect their emails so you can identify the student who took the test. You can have the students see their scores immediately (see under release grade) or later after you've reviewed it. You can also control what the students can see such as missed questions, point values, etc.
STEP 4 Ready to Begin Adding Questions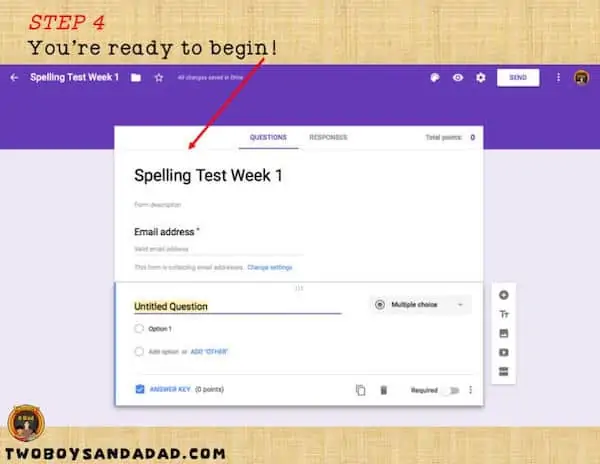 Now you will begin adding questions. You'll just be adding numbers (one for each spelling word).
STEP 5 Write Your Name Question
I highly recommend that the first question be for them to write their names. That way it will be easy to identify scores for each student. Make sure you assign zero points to this question but make it required.
STEP 6 Add Your First Question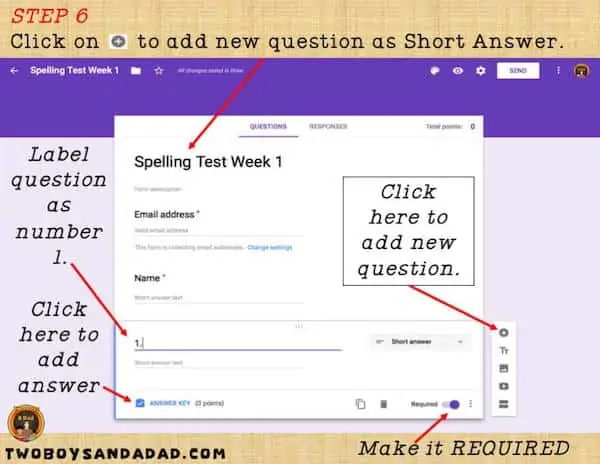 Now you will begin adding questions. One question for each spelling word. You will select 'short answer' as the question type. You won't actually ask a question, but rather put the number for the question. Sort of like numbering your paper for a spelling test. For example, if you have 10 words, you'll have 10 questions numbered 1 – 10. After each question is done, click on Answer Key to add type in the correct spelling word for the Answer Key.
STEP 7 Adding the Answer Key to the Google Forms Spelling Test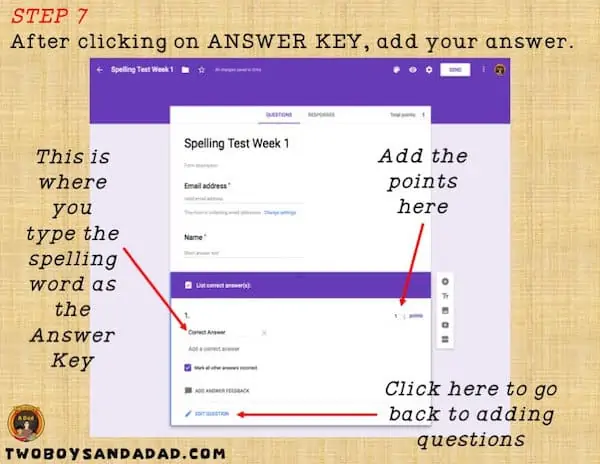 Add each correctly spelled spelling word in the Answer Key. Don't forget to add the points. You can vary the points for example if you have bonus words that are worth more than the other words.
Since you can add an entire sentence in the Answer Key, you could also have a dictation sentence that the students have to type out using the spelling words. You would just have to type the sentence correctly with punctuation as the Answer Key to that particular question.
STEP 8 Adding More Questions to the Google Forms Spelling Test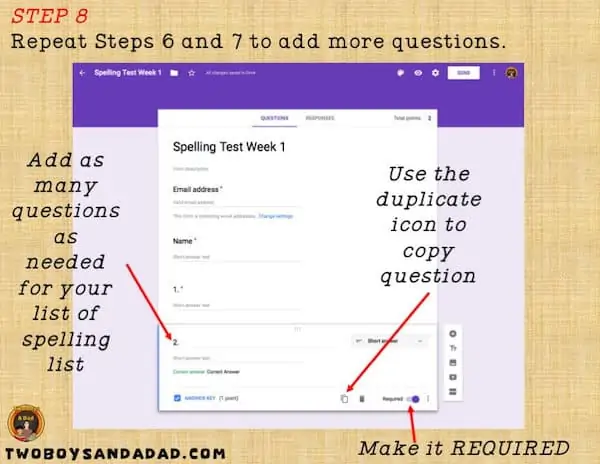 To add another question to the Google Forms spelling test, you can either hit the new question icon or click on the duplicate icon. If you use the duplicate icon, remember to change the question number and Answer Key for that question.
STEP 9 Assigning the Google Forms Spelling Test to Students
Once you added all the questions for the test and have filled out the Answer Key, it's time to assign it to students. If you use Google Classroom, it can be assigned via a link. If not, you can email it to each student.
STEP 10 Creating the Link for Google Classroom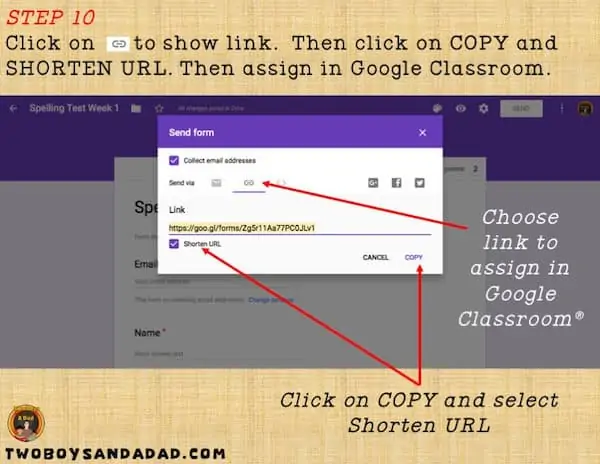 To create a link for Google Classroom, click on the LINK icon. Then shorten the URL. Click copy and now you're ready to paste that link to an assignment in Google Classroom.
Assigning it to Google Classroom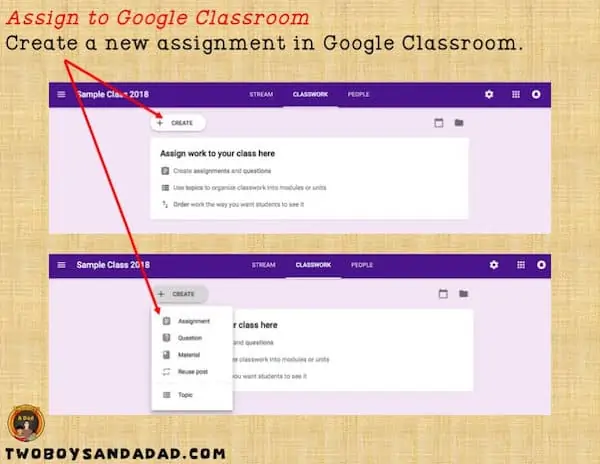 Go to your Google Classroom, click on CREATE and choose Assignment. Then you'll paste in the link to the spelling test form.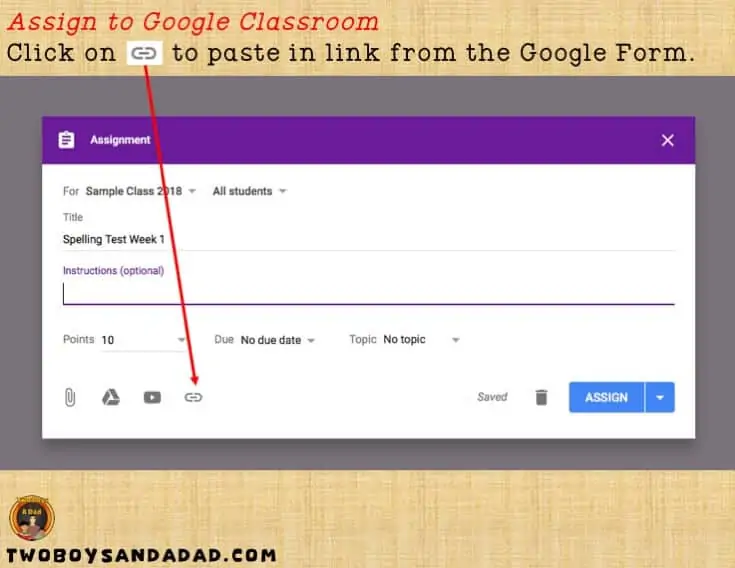 How to View the Results
There are two ways to view the results. One is directly in Google Forms. Just click on RESPONSES next to QUESTIONS. The other is to create a spreadsheet in Sheets. If you have Flubaroo, you can also use that.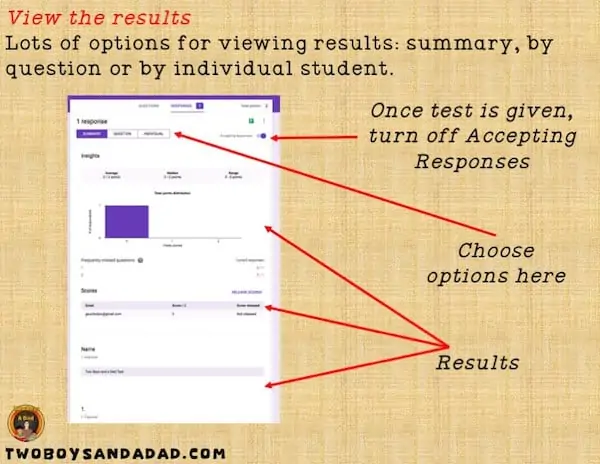 Once the test is over, be sure to click on Accepting Responses so no one takes the test again. You can view results in a summary or by an individual student.
What About the Next Spelling Test?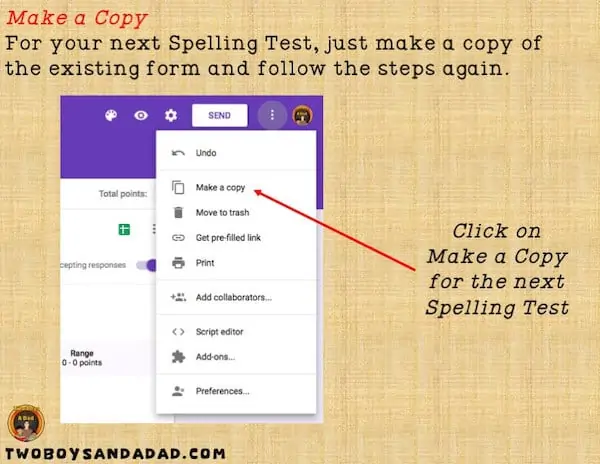 For the next Google Forms Spelling Test, just use the original and click on 'Make a Copy' to use as a template. Just rename the copy. Don't forget to change the Answer Key!
And that's it! Setting up this Google Forms spelling test should take you about 10 minutes on your first try. After that, you can use it as a template by making a copy so it should take you no more than 5 minutes to set up!
Sign up for my newsletter so you can download a PDF of all the STEPS. Just fill out the form below and I'll send you the LINK!
Other Considerations
If you're wondering if you can add sound to speak each word, that is not possible yet in Google Forms. Add audio to Google Docs, Slides, Forms, etc., is not supported at this time. You can add links to audio files. But that would mean you'd have to record each word as a separate file and then link it. Might be easier just to give the test on Google Forms whole class or small group while you read the words.
I hope this tutorial has been helpful! Let me know how you're using Google Forms by writing in the comments below.
Don't Go Yet!
Please read through the comment section for updates about creating this form.