I previously blogged about how I taught my third graders to compare fractions using bar models, number lines and fractions strips. But what about equivalent fractions? I used the same bar models, number lines and fractions strips to teach equivalent fractions as hands-on concept building lessons…but then I added a new factor! A Google Slides Interactive Digital Notebook!
Where do Equivalent Fractions Fall in the Progression?
I recently came up with this chart after having done some further research into the teaching of fractions under the Common Core State Standards for Mathematics. Most teachers believe that formal fraction teaching begins in third grade. But it doesn't! It actually begins in kindergarten but falls under the geometry domain.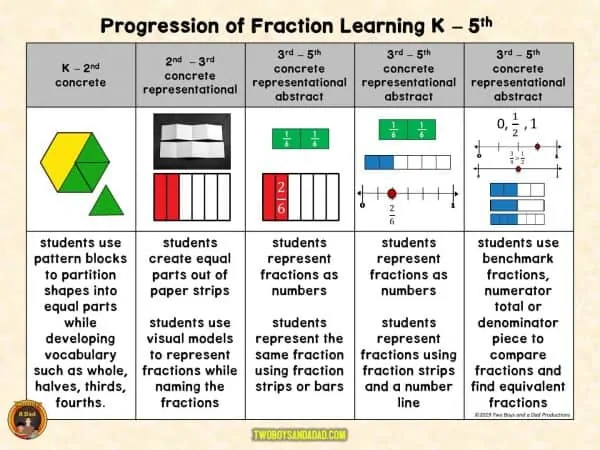 In geometry, students learn to partition shapes while beginning to learn the vocabulary of whole, halves, thirds, and fourths. By second grade, students are introduced formally to the idea of equal parts. Finally, in third grade, fractions are now taught as numbers. Finding equivalent fractions falls near the end of the third-grade teaching cycle as students must first become familiar with comparing fractions as I explained in a related post.
Hands-on to Find Equivalent Fractions
Up until second grade, students have been working on fractions at the concrete and representational levels. It's not until third-grade that fractions become abstract numbers. But you still have to keep it hands-on at the concrete level to teach equivalent fractions!
My students were already familiar with using fraction strips since they had used them to compare fractions. For equivalent fractions, I first let them form a complete fraction chart from one whole to 12 twelfths. They would use this math tool to now find equivalent fractions.
So I introduced a relatable situation. A would you rather have type situation.
Students could visually see that one-half was the same as three sixths. I instructed the students to pick up the 1/2 piece and find the fraction that is the same size (occupies the same space). Was there anything else that was the same? Two-fourths, four-eighths, five-tenths, and six-twelfths! We discussed the meaning of equivalent.
What do you Notice about Equivalent Fractions?
I asked them to notice anything about the numerators and denominators. They could see that the denominator was double the numerator. We had a discussion of why that is and came up with the idea that the numerator was HALF of the denominator. BINGO!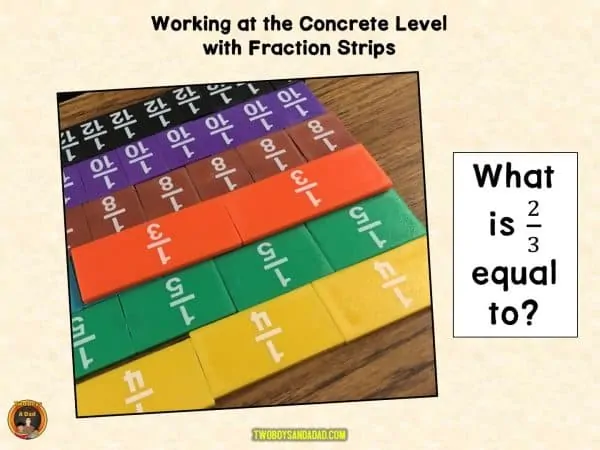 That is why all these fractions are EQUIVALENT. We continued to find equivalent fractions for fractions with denominators of thirds, fourths, sixths, and eighths. This hands-on building of conceptual understanding of equivalent fractions should never be skipped or substituted. Children DO need to manipulate solid, real objects in their hands and make these discoveries on their own.
Here is a video of one of my students hunting down an equivalent fraction using fraction strips.
We spent an entire lesson just using these manipulatives until I knew for sure the students understood the concept of equivalent fractions. The next day my lesson focused on transferring that concept to number lines. I also introduced them to equivalent fraction charts with fraction strips and number lines as another math tool. These happened to be included as a resource from the districted adopted math curriculum.
I started by demonstrating on the whiteboard how number lines could also be used to find equivalent fractions. Then I had the students use their own whiteboards to draw the same size number lines and label them with halves and fourths. We practiced several times until I could see that the class understood how to find equivalent fractions on a number line. Now comes the exciting part!
Using a Digital Notebook for Practicing Equivalent Fractions
Mu district is now a 1:1 Chrome Book district in grades K – 8. Each teacher has a cart with a Chrome Book for each student. Many districts are opting for 1:1 to align instruction with the new online standardized tests known as SBAC and PARCC. The technology component of these new standardized tests adds another challenge for students.
With that in mind, I designed my practice for the students using Google Slides. If you are not familiar with Google Slides, here is a link to get you started. Essentially, Google Slides is an ONLINE, CLOUD based presentation tool much like PowerPoint. If you're familiar with PowerPoint, then you will be very familiar with Google Slides. The students had to identify the 2 models that showed equivalent fractions, then drag them to the green box. The next step was to grab the written fractions and drag them to the equal sign to show symbolically how the fractions are equivalent The final step was to explain how the models show that the fractions are equivalent. The students do all this in Google Slides.
Even as students are working on the assignment, the teacher can see their work LIVE on the teacher's computer and add comments and suggestions as the student is working. This is an amazing tool because you can literally see how students are trying to solve math problems and you can scaffold your comments to fit the needs of the student!
Try Out the FREEBIE for Equivalent Fractions
In my TpT Store, I have a two slide FREEBIE you can try out with your students! Just click on this link to go directly to my store FREEBIE.
Also, check out the Comparing and Ordering Fractions in the Cloud.

Check my STORE for all the Google-based resources!
Also, discover and learn how I taught comparing fractions, too!
Don't Go Yet!
Are you new to the 1:1 classroom setting? Then you'll want to read my Valuable Tips for the 1:1 Classroom.
Check out how I use Google Classroom to present at Back to School Night for Parents.
Sign up for my newsletter and get this CONTROL KEYS Shortcut poster for FREE. Just sign up for my newsletter below and you'll also get a bonus student desk version as well! Sign up now!
Or register for the newsletter to receive this FREE Guide to Achieving Multiplication Fluency. Get it now by signing up for my newsletter below!