Help your students use technology more effectively with a Google Slides research project.
When I became a 1:1 tech-infused classroom, I had no idea how I would use all this new technology (a class set of Chromebooks and a few iPads) with my elementary students. We had access to all the Google Apps, including Google Classroom. The learning curve was huge making many mistakes at first. But then I learned how to create Google Slides Research Projects. Suddenly, my students were not only using technology but learning with it as well!
So, you may be like when I first started. Not sure what to do with all the technology. Or not sure how to create resources using Google Apps. Or just ready to chuck all the computers and tablets back into the cart and forget about it! Then you've come to the right place!
Start with Integrating a Google Slides Research Project into an Existing Unit
You don't have to create a whole new curriculum! Integrate technology into what you already teach. In my district, we combine Social Studies and Science topics into our Language Arts instruction. The Adaptations Unit is one of them. My science unit on adaptations focuses mainly on an animal's structural adaptations, though I do cover some behavioral adaptations as well.
The ELA Common Core Standards I focused on were the informational standards related to
the main idea and key details,
domain-specific words,
text features,
conducting short research projects,
writing expository paragraphs,
and note-taking from various sources including digital sources.
That's where the Google Slides research project comes into play!
BONUS: Keep on reading to learn how to download a FREE Control Keys Shortcut Poster to teach students the most commonly utilized commands.
A Google Slides Research Project on the Adaptations of Animals
When I became a 1:1 classroom, I immediately learned to create technology resources for my students. Why? Because there just weren't any available that were of any good quality or fit the needs of my grade level.
I tried different programs and apps, but the most versatile and easiest to use was Google Slides. With Google Slides, I can prepare research project templates for my students to use. I can customize it to fit the grade-level standards, the learning objectives, and any science or social study topic.
What I really wanted to avoid was the "worksheet on the computer" type resource. Why not take advantage of all the amazing websites and videos available for students? I also wanted students to have practical experience using technology as a tool for learning. It's also important that students be comfortable using technology before online testing! And to be honest, I wanted something that looked pretty so I could use it for Open House projects!
So I created the Desert Animal Adaptations Interactive Digital Notebook for Google Slides. It's a culminating science/ELA project using Google Slides. Below you will see examples of some of the slides.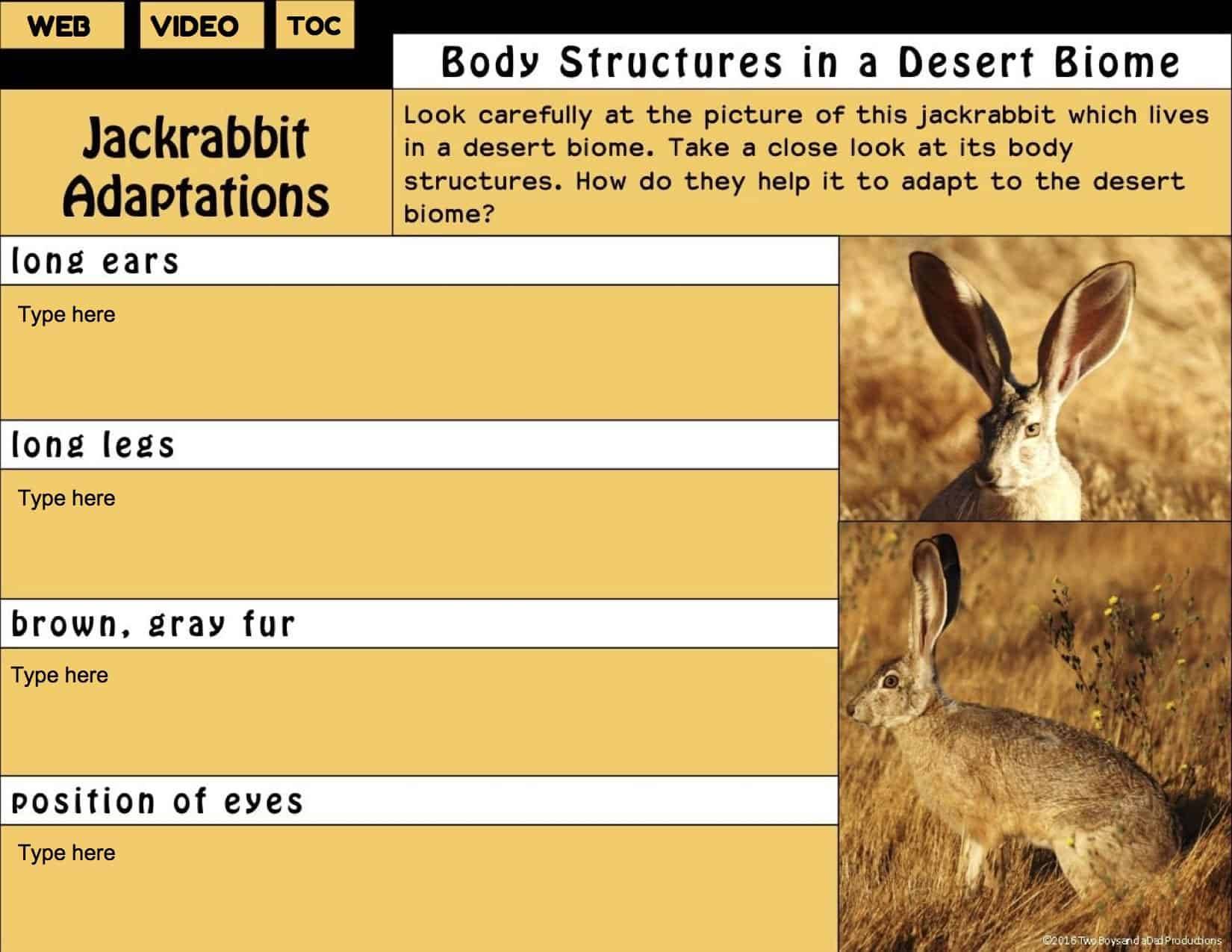 Exploring the Desert Bioime
How animals adapt to the heat and cold of the desert
Since then, I've also created 3 additional Digital Interactive Notebooks.
All 3 resources have similar layouts, slides, tasks but have different content depending on the biome. You can get 3 in a bundle and save!
The Woodlands Animals Adaptations and Desert Animals Adaptations Notebooks are also available in Spanish versions as well making them excellent resources for bilingual classrooms.
Just Added! Tropical Rainforest Animal Adaptations. Explore the adaptations of animals living in the tropical rainforest such as the Amazon Rainforest. Learn about the sloth, toucan, jaguar, and tapir. What kinds of adaptations do animals need in order to survive in such a hot, humid, and wet biome?
What's in This Google Slides Research Project?
This resource contains 17 slides that focus on learning about animal adaptations. Students research specific desert animals and how their adaptations help them survive in a desert biome.
4 slides to research specific desert animals to learn about their adaptations for desert survival
a slide to research adaptations of prey and predator
another slide for determining animal defenses against predators
learning about the climate, plants, and land of a desert biome
research how animals avoid the heat of the desert
how camouflage is an important adaptation for desert survival
and more!
If your state follows the Next Generation Science Standards (NGSS), this resource supports LS3.A, LS3.B, and LS4.C.
BONUS: Keep on reading to learn how to download a FREE Control Keys Shortcut Poster to teach students the most commonly utilized commands.
Using Technology to Keep the Focus on Learning
One of the reasons I am motivated to design these Google Slides research projects is that I can include on each slide a website link that is trusted and reliable. Additionally, I can link on each slide to a specific, trusted and reliable video with the information needed to complete the slide. That's taking advantage of the rich multimedia resources available today.
Another thing to consider is since the students are using a template, they don't waste time and energy picking colors, fonts, themes, images, etc. I have other projects in which they can design their own templates. But for this, I wanted the focus to be on research and learning about adaptations.
As students work on each slide, they research and take notes to answer and complete each slide. The resource comes with a Note Taker Sheet so students stay focused on the research. They learn to focus on finding the needed information.
Supporting Students With Special Needs using the Google Slides Research Project
First of all, I knew that I wanted my students to work independently on the Desert Animal Adaptations Interactive Digital Notebook for Google Slides. For that reason, I would have had to address the following student needs:
Students with Disabilities (I had RSP students who struggled with writing)
English Language Learner (ELL) students who have a limited academic vocabulary or struggle with grammar
Students reading below grade level
As a result of these important considerations, I designed this Google Slides Interactive Notebook to make allowances for all that. Because the students are working independently or with a partner, I am free to focus my attention on those who might need additional assistance.
For RSP Students,
they had multiple opportunities to practice shorter responses before the research project.
they also could use the built-in spell checker of Google Slides.
another option is for them to work with a partner if necessary.
or they could even work on it during their RSP pull out if it coincided with their goals.
I also had a plan to make time to work with my three RSP students in a small group to chunk the project so it wouldn't appear overwhelming.
I provided other avenues for learning such as through videos like the ones below.
For my ELL students,
I front-loaded the vocabulary through read-alouds and discussion.
I incorporated visuals and videos were used throughout.
Other students worked independently on this project giving me opportunities to work one-on-one or a small support group for my ELL students.
I paired the ELL student with a more proficient student
For my students reading below grade level,
I could pair them up with a partner and they could take tandem notes.
I could also enable the text to speech function of the Chrome Book if necessary.
the video links I provided also gave them opportunities to find the information from just listening and watching a video, not just from print or web resources.
I also worked with them individually if I saw they were struggling.
Using the Google Slides Research Project as an Expository Writing Assignment
In my district, and in the Common Core, writing to inform is huge. Therefore, the culminating slide in this Google Slides research project is an expository writing assignment. Students select a certain desert animal and research its adaptations. The goal was to write a three-paragraph expository essay.
The research involves the students conducting research to:
describe the animal
identify and describe where the animal lives
describe what the animal eats
explain 3 adaptations it uses for survival
explain 3 interesting facts about the animal
After having worked on our Desert Animals Adaptations Interactive Digital Notebook for over two weeks and becoming content "experts" on adaptations, my students were ready to begin the final slide. My writing block and content area block would be combined to give us 80 minutes four days a week. So we began.
Not All Went According to Plan!
I thought they would apply their newly learned and practiced research skills to the final slide. So when it came time to write their paragraphs, what happened? As I looked at what they had done so far, I was not pleased and somehow shocked at the quality of the work. It seemed no research skills had been learned at all!
I kept asking myself . . .
Why didn't the students take sufficient notes?
Why didn't the students organize their notes?
How come students forgot how to formulate a paragraph?
What prevented the students from finding the necessary information
What in the heck happened?
It almost made me want to chuck all the Chromebooks back into the cart! But, I did not give up instead I discovered that many had a difficult time locating the information needed. They would look at a website and just read and read but not necessarily take notes.
So I spent some time teaching mini-lessons
using the search function built into most web browsers including Chrome (use control + f or command + f). Using the page search function, I had taught mini-lessons on how to use keywords (and their synonyms) to find the information needed on web pages.
mini-lessons focused on using text features on websites such as tables, maps, headers, illustrations or photographs, captions, etc.
taking video notes on videos that lacked narration or text (they thought if it didn't have narration, then no information).
Helping with the Offline Task of Organizing Information
Looking back on the process, I decided that what would help the students on the final slide is a tool to help them focus.
The answer was a graphic organizer! Something so simple, yet powerful to keep them going in the right direction while applying the skills that they have learned.
So I provided each student with a new graphic organizer for their research notes for the final slide and project. Additionally, each student was given a new graphic organizer to plan the three paragraphs. The visual cues of the graphic organizers will remind them what they are researching as well as how to organize it for writing paragraphs.
This graphic organizer that is used in concert with the final slide is now included as part of this resource.
A Completed Slide Example
Here is one example of a student who used the graphic organizers and then typed it all onto the slide.
Once the entire Google Slides research project on desert animal adaptations was completed, I scored it. I developed a scoring guide that gave points to each slide based on the task.
The expository writing assignment on the last page was graded using our district writing rubric. In the end, this project provided the student with grades for science, technology, writing and reading comprehension.
So, don't chuck those computers or tablets back into the cart! Instead, provide your students with projects that
integrate the curriculum
provide practice with the standards
use technology as a tool
fully utilize the power of the internet
and are fun and engaging
In other words, create and utilize Google Slides research projects!
Open House Project
Once students had completed their Google Slides research project, it was ready to be shared with parents. And it was simple to do! Since it is a Google Slides presentation, the students could share it at Open House.
At Open House, I had each student log into their Chromebook and show their project as a presentation to their parents! It was a big hit. One additional step you can take is to create QR codes for each presentation so that anyone can just scan the code and see the student's work.
New Ready to Use Digital Notebook!
I'm so excited to add this new resource to the adaptations digital notebooks! Integrate science, reading, and writing with my newest READY TO USE Google Slides research project: Ocean Biome Animal Adaptations Digital Notebook. Have students research ocean animal adaptations using these ready-made Google Slides templates. Web and video links, explicit directions, and graphic organizers make this an independent project perfect for distance learning or for an in-person classroom assignment. Check out the preview below!
Ocean Animals Adaptations Digital Notebook
Ocean Animals Adaptations Digital Notebook
Ocean Animals Adaptations Digital Notebook
Ocean Animals Adaptations Digital Notebook
More Articles on How to Use Digital Resources in Your Classroom
Improve your Students Keyboard Efficiency with this FREEBIE
Sign up for my newsletter and get this CONTROL KEYS Shortcut poster for FREE. Just sign up for my newsletter below and you'll also get a bonus student desk version as well! Sign up now!
These are great to stick on student desks so they can learn the keyboard shortcuts to improve efficiency and tech skills. They are the universal shortcuts for all types of computers and software.