For the past few years, I have always taught finding the central message (or moral or lesson) of a story as a separate standard. But I tried something different and it is working very well in helping my students understand how the problem/solution AND character traits all work together to construct the central message.
Our Anchor Chart for the Central Message
Rather than teach each literature standard separately, I teach them in a combined form using cause and effect. I started my Folktale Unit with Native American folktales. For example, if you look at the chart below made by my class for the folktale The Legend of the Bluebonnet by Tomie DePaola, you will see that we identified the problem and the solution in the story.
In this particular story, the people were suffering from drought and famine. The solution was for She-Who-Is-Alone to give up her most prized possession so that the Great Spirits would stop punishing the people for their selfishness.
But what drove the girl to give up her warrior doll, the only connection she had left to her deceased family?
For that, we examined character traits. We determined that She-Who-Is-Alone was selfless, loving and giving. We backed up our claim with evidence from the story. Finally, we constructed a cause and effect sentence that stated the central message.
Are Your Students Stuck on Character Traits?
My students were! Many of them did not know some basic character traits or the meaning of other character traits. I researched some of the most common character traits that elementary students should know about and created a PowerPoint lesson with them. The PowerPoint shows a photograph representative of the trait, and a paragraph to be read to infer the character trait (i. e., the evidence!). Then students are presented with synonyms of the character trait.
I would use the PowerPoint at the beginning of the unit on Folktales just to make sure that students had the necessary vocabulary. Then I also put up the posters that reference the PowerPoint so that students could use them as a classroom resource.
You can find more information on the PowerPoint and Posters HERE.
Check out the VIDEO PREVIEW
[su_youtube_advanced url="https://youtu.be/1bLhvE5CyWA" rel="no"]
Practice with the Central Message
I've also developed a resource that supports nine different Common Core State Standards for Literature in Grade 3. One of the practice sheets is for students to state the central message (or moral or lesson) in their own words. Then provide evidence to back up the central message.
Another activity I use with students is to create a tri-rama. The tri-rama is very adaptable to many standards. I have the students identify the setting, characters, problem/solution and then on a separate index card identify the lesson or central message. You can read more about tri-ramas and how to make one HERE ON THIS POST.
Because the Legend of the Bluebonnet is such an amazing folktale, I've created a resource that I used with my students to study the story more in-depth while also addressing several common core literature standards simultaneously! You can check out the resource HERE in my store.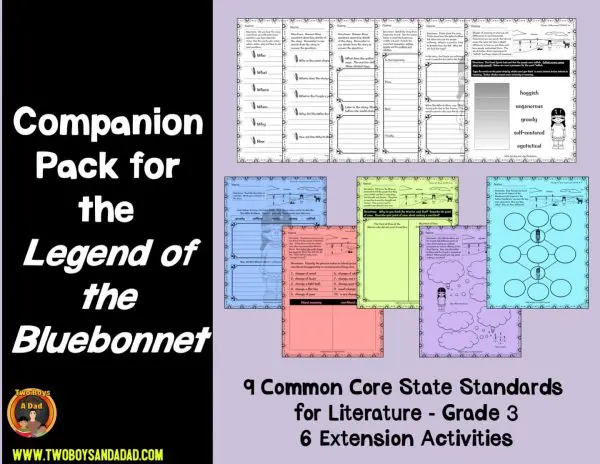 Not sure if it's right for you? Then try out the sampler! Get the download from my TpT store.
Using Fairy Tales and Fables to find the Central Message
Another way I teach finding the central message and supporting it with evidence is to use these Central Message Puzzle Cards. I've used them for a few years now. The students always enjoy using them. I think a great way to introduce and practice finding the central message (and supporting with evidence) is to use stories the students are usually familiar with such as fairy tales.
These puzzles I made use some well-known fairy tales like Little Red Riding Hood, Goldilocks and the Three Bears, Cinderella and Hansel and Gretel.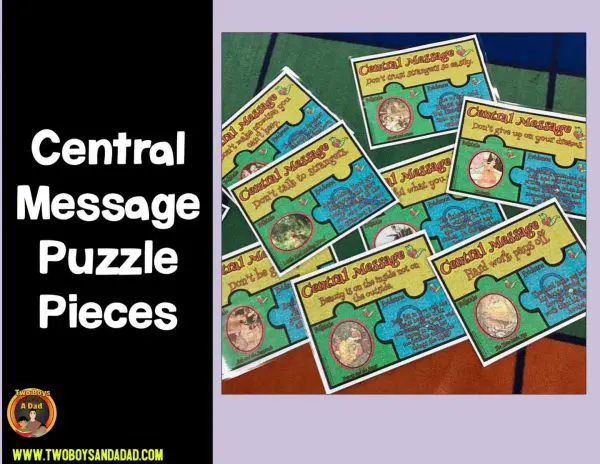 I have both color and black and white copies of the puzzles. First I always ask my students which fairy tales they're already familiar with so I can eliminate those they don't know (in the past, though, I try to find a short version of the one that they're not familiar with so we can practice with that one too.)
What is the Supporting Evidence?
Each puzzle has three parts: the central message, the title and illustration, and evidence to support the central message. I take all the parts that have the central message and I read them out loud. Then we try to match a central message to a fairy tale title. Lots of great discussion goes on as students try to defend their choices.
Then once we've matched a fairy tale to a central message, I ask them to prove it by citing some text evidence. Again, lots of good discussion about what is evidence and we indirectly discuss character traits. Once the evidence has been shown we put the puzzle together.
Would you like to try a FREE SAMPLER of the puzzles? You can get a FREE SAMPLER from my Teachers Pay Teachers store. CLICK HERE to go directly to the SAMPLER.
Another Genre to Teach Central Message
Have you considered using Greek Myths? These are some of my favorite stories to use to teach the literature standards. Through read alouds and shared readings, they are very accessible to third graders. Check out this POST on using Greek myths to teach the central message.
Another Folktale Author
One of my all-time favorite children's authors is Gerald McDermott. I use his Native American folktales as part of an integrated social studies unit. I've created more literature support packets to support your teaching of up to 9 literature standards. You can read more about using these folktales on THIS POST.
You can also get a preview of one of the packets by signing up below for my newsletter!
EXCLUSIVE TO MY BLOG!
Sign up for my newsletter to get a FREE SAMPLE of the Coyote Companion Pack!
Don't Go Yet!
How do you teach central message?
Share your ideas in the comments!