Just like all the back to school sales, there are lots of teachers offering back to school tips. But I've always felt that advice carries more weight from those with experience. Those teachers that have been there, year in and year out, have a great deal of practical advice to offer.
In this round-up on back to school tips post, I've collected 7 blog posts filled with what I consider good practical tips from veteran teachers (myself included!).
Back to School Tips for Switching Grade Levels
One of the hardest aspects of teaching is sometimes having to switch grade levels, voluntarily or NOT. A couple of years ago, I had assumed I was going to teach third grade again. Surprise! Our numbers didn't work out that way and I was assigned a second grade. So I wrote this blog post about what do to when switching grade levels. First tip: don't panic!
Back to School Tips for Setting Up Google Classroom
If you're in a 1:1 situation or you have students using Google Classroom, one of the most important back to school tips I can offer is the setting up of Google Classroom for the new school year. The first year I used Google Classroom it was an organizational disaster. Since then, I learned some organization tips. Even though Google always introduces new features to make organization easier, I offer this advice post on how to avoid 5 mistakes when setting up Google Classroom!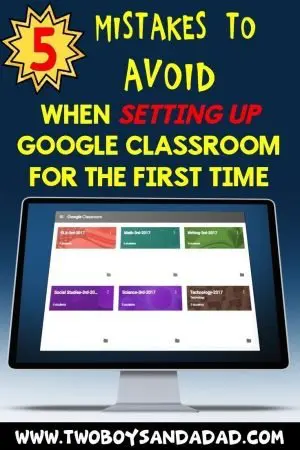 Back to School Tips for Back to School Night
Usually, Back to School Night is scheduled very close the start of school since we want to make our expectations clear to the parents. Sometimes, there's very little time to plan. If you're new to the profession or maybe a seasoned teacher, check out these 5 mistakes to avoid at your Back to School Night presentation.
Back to School Tips for Building Classroom Community
My colleague over at Those Who Love Teaching has an informative post on building classroom community during those first few weeks of school. It's important to build those relationships with students to let them know you care. Let students share their families and experiences with you and the rest of the class to promote community and caring. Check out the blog post here!
Back to School Tips for the First Day of School
My colleague over at Elementary Matters has some worthwhile tips for that all-important first day of school. We all know that the first day sets the tone for the rest of the year. Kids are going to be super excited, nervous and full of summer experiences to share! Check out her 6 first day of school tips HERE!
Back to School Tips for Choosing the Right Seating Chart
My colleague over at Enjoy Teaching has some great tips for matching your seating chart to your teaching style. From flexible seating arrangements to student needs, she has tips for every kind of seating chart or arrangement to fit any style or student need. Check out her blog post and choose your right seating chart HERE!
What are your Best BTS Tips?
Whether you've been teaching for years or are just starting out, please share your best back to school tips below. We have so much knowledge and experience as a profession! Share below in the comments.
Don't Go Yet!
Get Ready for Back to School Night early with this blog post! Check out how I use Google Classroom to present at Back to School Night for Parents.
Do you need a resource for Back to School Night? I'm offering this FREE Back to School Night Flap Book that is fully editable! Just sign up for my newsletter and you'll get the template mentioned in the Google Classroom to present at Back to School Night for Parents.